Join PICZ upcoming activities
Direct access to our Labs
PICZ Activities
PICZ promotes the practice of Photography through its activities (click on the image to see details).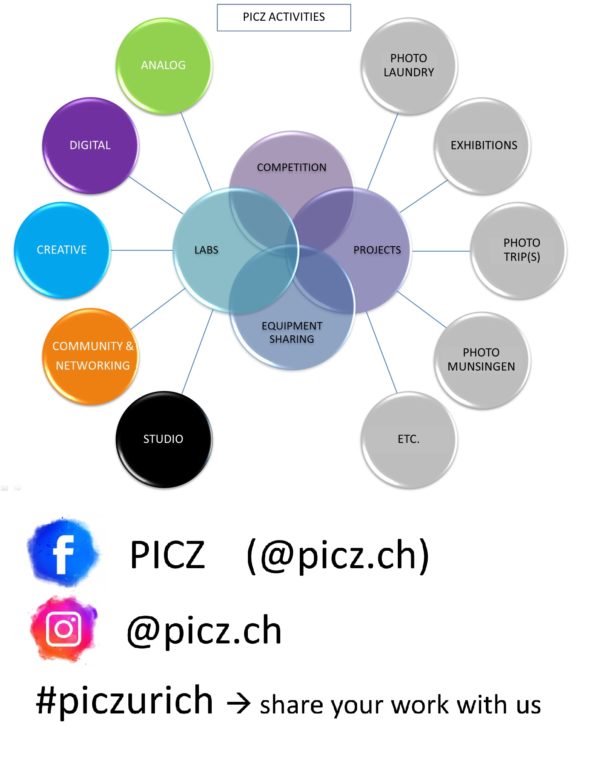 LABS AND STUDIO: We group our activities by LAB in order to cover different aspects of photography: Analog and Digital, Creativity (it is not only about technique!) and the social and networking part (we love to share, get together and speak about photography, gears, etc.!.. also just to meet and greet around a nice drink ;)) Each lab has a leader who keeps a certain level of attention to his aspect of photography.
In the labs forums, you will find discussions, workshops and other activities. You can join one or several of the labs and start being informed or to participate but most of our exchanges happen during our monthly meetings.
When members want to organise an activity, host a workshop or have any other idea the lab is here to help organising.
STUDIO: We have our own professionally equipped photo studio which we let at very friendly prices ! (info: http://picz.ch/studio)
For inquiries, write us at studio@picz.ch
COMPETITION: Regular competitions  (quarterly) where participants have a chance to challenge their skills and creativity. In the competition menu, you will find more details about the current competition. You will also find the forum where to post your participation to the forum. Please note that non members of PICZ may be required a small payment to enter the competition.
PROJECTS: Our members work together practice photography or show their work: exhibitions, trips, etc. Each project has a corresponding forum where members can work together and exchange opinions.
EQUIPMENT SHARING: The Club is purchasing equipment that the members can use. We also promote the exchange of material between the members.
SOCIAL MEDIA: We are sharing content on Facebook and Instagram with the account @PICZ.ch.  You can let us see your work by using the hashtag #piczurich or by tagging us on your pictures when the pictures were taken in our studio or during one of our events. Thank you to share our content and let people know about us and about our members !
Creativity and Imagination

Events of this Lab are designed to develop the creativity or to study technical aspects of photography which are not limited to one medium, e.g. photo-transfer techniques, creative use of your camera, double exposure techniques, study pictures of a given photographer or photography style, etc.
Upcoming Events in Creative & Study Lab
No events so far. We are happy to read about your proposal for an activity.
Community & Networking Lab
Photography as a happening

All events which have as main purpose to let photographers meet each other, share the fun of photography together and build a network, e.g. photowalks, visit of photo exhibitions or vernissages, photo outing, sunset cruise, photowalk, model sharing, photo trips, portfolio reviews, regular club members meetings, etc.
Community and Networking Events. If you plan to attend to an exhibition please make it an event and invite your fellow PICZ Friends to join you.
To the Origins of Photography
Events of the Analog Lab are related to learning and practicing analog photography, e.g. learn how to use analog cameras, build a pinhole camera, photowalk with analog cameras, learn and practice film development and photo development, instant cameras, etc.
Join us for workshops and other events about Analog Photography
No events so far. We are happy to read about your proposal for an activity.
Digital Cameras, Lights, Softwares, Printers, etc.

This Lab's focus is on all aspects of Digital photography, e.g. learn how to use your DSLR, Lightroom, Photoshop, Environmental portraiture workshop (strobist technique), introduction to studio photography, creative techniques in Photoshop, Color Management in Digital photography, printing techniques, color spaces and color management in digital processing workflow, etc.
Upcoming Events in Digital Photography around Zurich
We try to satisfy all creative aspirations of our members and continue sharing the fun as a group. Photolaundry, Exhibition at Photobastei, Fork & Bottle Exhibition, Phototravel are already running or in the pipeline… We have a bunch of bigger projects on the horizon and appreciate your help! Here is a list of topics for you to participate.
Photo Münsingen Exhibition
Photo Münsingen is the biggest get together for photo clubs in Switzerland. it will take place on May 10th-13th, 2018. This year, for the second time, our Club participated in the Swiss clubs competition and we are very excited to have our work exhibited there! Stayed tuned!
Photo Laundry
In 2015, PICZ organized the first Photolaundry in Switzerland. The event was a big success and gathered many photography enthusiasts who were eagerly exchanging their arts.
On the 9th of June 2018, we will be holding the fourth edition of the Photo Laundry.