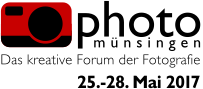 Group visit of Photo Münsingen with PICZ
Date/Time
Date(s) - Saturday, 27/05/2017
All Day
Add this to your calendar: iCal

Event Organizer Contact:



You need to be logged in to see contact details.
Location
Schlossgutareal in Münsingen
This event is related to
Join us to visit Photo Münsingen together !!
Photo Münsingen is the biggest get together for photo clubs in Switzerland. It will take place on May 25th-28th.  This year, our club participated for 1st time to the club competition and we are very excited to have our work exhibited there !!
PICZ will make a group trip to the event on Saturday May 27th. We will also accept 3 non PICZ members who want to join our group.
The event opens at 10:00 for normal visitors but Workshops start at 9:00. If you plan to go to a workshop, please check the time of your workshop !! 
The following agenda is proposed:
Meeting at Zurich HB at 8:45 (with the ticket already purchased !!)

We will take the 9:02 IC train towards Brigg and change in Bern for the 10:16 S1 train towards Thun

People who do not depart from Zurich can join us either from Bern or meet us in Münsingen
Entry ticket is free of charge
Free visit from 10:00 to 12:30
12:30-13:30 Group lunch (meeting location will be defined later depending on participants lunch preferences) – debriefing and recommendations about the event
13:30 – 18:00 Afternoon visit.
18:00: gathering for return trip (with the ticket already purchased !!)
We will take the 18:08 RE4178 train towards Bern and the 18:32 IC729 train towards Zurich. Arrival at Zurich HB 19:28.

Agenda may be altered by the organizer without notification.
Bookings
Bookings are closed for this event.
Attendees registered: