Photographic Lecture with Rafael Rojas to PICZ members
Date/Time
Date(s) - Tuesday, 24/10/2017
7:30 pm - 9:00 pm
Add this to your calendar: iCal

Event Organizer Contact:



You need to be logged in to see contact details.
Location
The PICZ Studio
This event is related to
PICZ offers a photographic lecture by swiss fine art photographer Rafael Rojas, Master Hasselblad 2014.
This lecture, of about 50 minutes, will mainly tackle the artistic and creative aspects around the publication of his last monograph, "Timeless", an exclusive monograph of fine art photographs in black and white of the city of Venice, awarded with the First Price as Best Fine Art Photography book at the International Photography Awards IPA (New York) as well as the Silver Award as Best Photography Monograph by the Prix de Photographie de Paris Px3 2016.
How to approach photographically such an iconic place like Venice in a personal and creative way? What are the stages of the realization of an art book? How to go from concept to the final book? What are the details that make all the difference in creating an exquisite art book?
Rafael Rojas will address throughout the presentation his creative journey from the realization of the photographs until the materialization of the book "Timeless".  A realization of several years where personal vision guided every decision with consistency and attention to detail in a process that could be referred to as "organic." The result has been the creation of an art book that carries with it a piece of its creator's soul.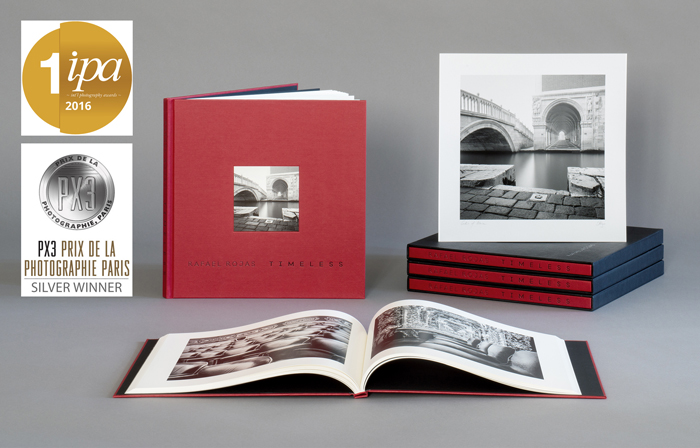 A number of photographs included in the book will be used to illustrate the various points raised during the lecture.




At the end of the presentation, the book will be unveiled to the participants, available for purchase at a preferential price.
For further information about the "Timeless" project, you can visit:
https://www.platinumpresseditions.com/timeless-book/

Bookings
Bookings are closed for this event.
Attendees registered:
GIN
Magda Nowak
Abbas
Pascal