PICZ members Photography Exhibition
"STILLNESS"
5th – 15th May 2016 @Photobastei
Vernissage 5th May 2016 @19.00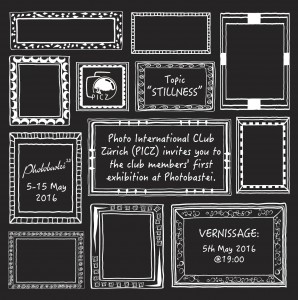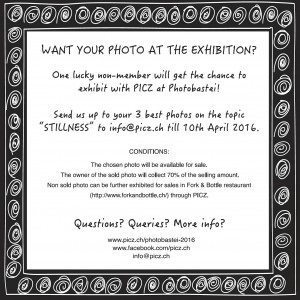 ''STILLNESS'' as a topic, as an objective, as a goal of the Photographer personal interpretation.
What is "STILLNESS" in lense of some famous photographers?
Michael Kenna http://www.michaelkenna.net/
The latest book "Forms of Japan" he renowned landscapes that tell us bout his fascination with Japan grew while travelling on his Buddhist pilgrimage in Shikoku.
"I recited the heart mantra and prayed in each temple. I then began to explore other parts of Japan, an my fascination with this country increased" – Kenna said. 
Lois Greenfield http://www.loisgreenfield.com/
She creates ambiguous images that can only be experienced as still photographs, yet feel as though they are moving.
"I like the to look as though it's effortless. I never want to see the muscles and strain and the sweat" – Lois sais
Other inspirations ? ANSHIN : PEACE IN YOUR SOUL
In Japanese literally the word means peace of mind. It's a basic idea in the Japanese budism. In all the temples you can find a corner where you can write your desires or just some prays to link your soul with the heaven and Gods. 
Peace in your soul : stillness is find a moment or a place where you are close to you. You disconnect and try to find inside you. Think and find your internal peace. 
Would you like to take a part in the photo exhibition @Photobastei?
If, so:
@PICZ MEMBERS:
Send us up to max 10 photos on the topic "STILLNESS"  to info@picz.ch
Dead line: 10th April 2016
@NON-PICZ MEMBERS
1 photo slot is open for a PICZ non-member

Send us up to 3 photos on the topic "STILLNESS" to info@picz.ch
Dead line: 10th April 2016
The winning photo will take a part in PICZ photo exhibition @Photobastei.
CONDITIONS:
Submission:

Only photos related to "Stillness" are considered for this exhibition

JPG photos (colour or black&white) must be sent to info@picz.ch by April 10th for selection process only

At a later stage, authors of selected photos will be contacted to provide TIFF – MIN 3000 pix, image allowing quality print,

By submitting photos for this exhibition all photographers allow PICZ to use their images to produce final prints and to use digital and paper copies to advertise the event (on flyers, posters etc) and the club's activities

Selection:

Photos will be reviewed by 3 club-members

25 winning photos will be identified by April 15th

Number of selected photos from one author is limited only up to the max number of photos that have been send for the selection process

Print:

Authors of selected photos will be contacted and asked to pay 55chf per image to print. 

Images will be printed on art paper and produced on a dibond or alu support

Winner photo of PICZ NON-MEMBER will be printed by PICZ at no cost of the winning author

All photos will be printed in 1 of the available print formats:

A2 (420 x 594)

A3 (297 x 420)

A3+ (329 x 483)

And square formats within A2, A3 and A3+ dimensions

Sale:

All photos will be displayed @Photobastei for sale

If a visitor wants to purchase a photo, (s)he will be advised to contact PICZ.CH directly, the club takes care of the sale, collection of money and expedition to the customer.

PICZ will charge 30% commission on every sale; photographer will get 70%

If the photo is sold during exhibition time, it will remain on the wall until the end of the exhibition (May 15th)

No additional print and sale of the pictures will be done by PICZ. PICZ reserves the right to use pictures to archive the current event and to advertise activities and future exhibition events